Jenks Hypnosis and
Training Center, LLC
805 N. Fir, Jenks, OK 74037 (918) 298-6884
Located in Jenks, America, near the heart of south Tulsa

Home | List of Classes | Scheduled courses | School Policies

Welcome to the Jenks Hypnosis Training Center
NGH Certification Course
This course of instruction leads to certification by the National Guild of Hypnotists (NGH), which is one of the most widely recognized hypnosis organizations in the world. It is the oldest and largest such organization, and is constantly working to advance our profession.
Also included with certification is a one year membership in NGH.
Our next certification class starts on Saturday, September 8, 2018.

We are also offering a

Thursday

class which starts on September 13, 2018.

Please register by one week prior to class start. For registration form click here.
Our training is divided into two parts, Basic and Advanced Hypnosis for Certification. The Basic Course teaches the basic skills of hypnosis. You will learn The Kein model of the mind, as well as some of the more subtle aspects of where this model leads us. This knowledge of the natural human state that we call hypnosis, what it is, how it works and how it is achieved, is a critical foundation for the later practical instruction.

You will also learn about suggestibility testing. Then some basic inductions are covered, demonstrated, and practiced. The Dave Elman induction is thoroughly covered, how to do it, why it works, and how to adapt it to many situations.

Other aspects of the hypnotic state are studied, such as deepening the state and how to most effectively give suggestions. Also covered are rapid and instant induction methods, the Esdaile state, and deep trance phenomena.

Then there is an introduction to therapy sessions, the basic smoking, weight management, and stress. We will also cover history of hypnosis - how did we get to where we are today. Also part of the Basic Course is a discussion of ethics and the NGH Code of Ethics.

Mixed in with all of this is much time spent in demonstrations and practice of the skills that are being taught. Also, the student is expected to practice the new skills during the week as preparation for the next class.

The Advanced Certification Course teaches basic and advanced therapy as it relates to hypnosis. The most common uses for hypnosis are smoking, weight management, and stress. We will initially go through the structure of a general session, and then through each individual type of session.

Other topics in this part of the course are teaching self-hypnosis, assessment of client's problems, behavioral and direct suggestion techniques, and ego-strengthening scripts.

Also covered in the therapy component of Advanced Certification are basic regression techniques and parts therapies.

A vitally important component of the Advanced Certification instruction is what kinds of problems can arise during a hypnosis sessions and how to handle them. This is repeatedly returned to and emphasized during the entire course of instruction.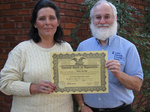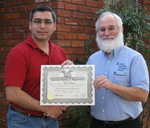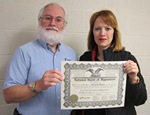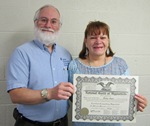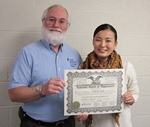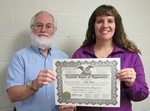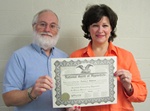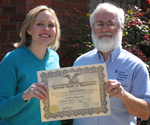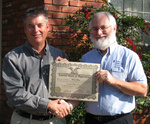 Here is a video demonstrating the Dave Elman induction, which is the basic induction that I teach. This induction is fairly quick and takes almost everyone to deep hypnosis.
Certification Class | Links | Student Information

Top of page